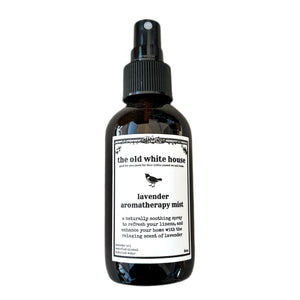 Lavender aromatherapy mist is a beautifully light, fresh from the garden scent, which is perfect when sprayed on your pillow to help aid you in a restful nights sleep. We also use this eco friendly, lovely spray as an aromatherapy room freshener throughout our home.   Because it is chemical-free we can mist it directly on a fabric surface, such as our curtains, or cloth furniture.   We also iron with it, and if I'm being completely honest... like my mama taught me to be, I use it as a body spray!  I feel good knowing that our lavender linen & room spray is safe for my body, on my pillow, and around my home, and family, because it is 100% natural and made with environmentally safe ingredients.
ingredients: distilled water,  rectified alcohol, pure therapeutic grade French Grosso lavender essential oil
You will receive one reusable 4 ounce glass bottle of lavender linen & room spray.