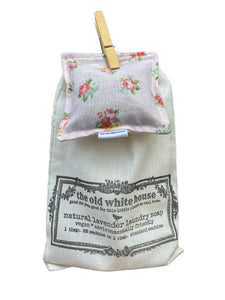 I have been making my flagship product, the Natural Lavender Laundry Soap, for over 12 years, and started this business by selling a small, trial size bag and sachet set. 


I decided to go back in time and recreate those sets to give all of you who may be visiting the old white house for the first time, the opportunity to try my soap and check one more box of doing something healthy for you, your family and the planet. 
You will receive an 8oz bag of natural lab laundry soap along with a lavender sachet (pattern chosen by me) to use in your dryer, or pillow, or drawer, or anywhere you want a little lavender goodness.  
These make great gifts for your tree hugger people!